Why mobile applications are beneficial for your business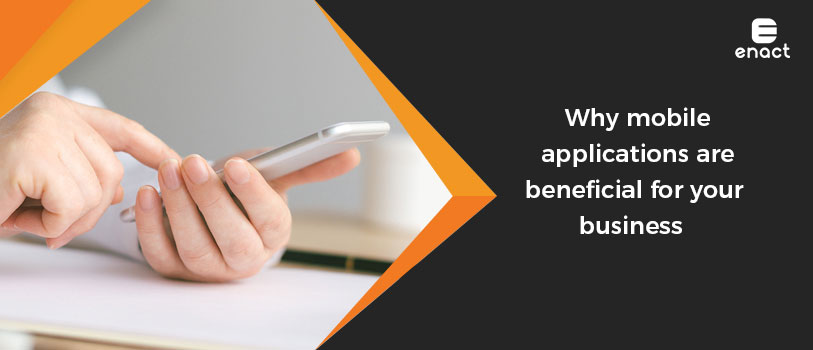 Over the last few years, mobile applications have become immensely popular in boosting the sales of many companies. It has become a convenient way of bridging the gap between customers and service providers. From e-commerce to bank payments to food delivery, everything is just a click away. There is no industry which is untouched by the impact of mobile applications. enAct eServices provides you with the Best App development services to build the Mobile app according to your requirement. Looking at such impact almost every business is keen on investing in a fully integrated app that can help in boosting the sales of their business.
However, before making such a huge investment it is imperative to review the requirement of your business as not every business can follow the same model. So, to understand the intricacies of the mobile app world, one must know the several ways in which these apps can benefit the business. Once you are aware of the benefits, you can always shortlist the ones you aspire for your business and can follow one direction to achieve the same.
Benefits of having a mobile application for your business
A better way of communication: Having a mobile application ensures direct communication with the masses at once. In the past as well, it has proved to be the most effective tool for interacting with prospective customers. It has been observed, that people spend a lot of time on their mobile phones, thus there is no other better way to spread your message across the people. It becomes easier to pass on the information like a product launch, offers and promotional discounts to the customers. Also, mobile phone applications are a great tool to know the demographics of the people using the app. Having all such information in hand helps in developing better marketing strategies to boost up the sales of your products and services.
Brand recognition: There is no doubt about the fact that mobile applications have smoothened the roads to build an everlasting connection between buyers and suppliers. Constant reminders, notifications regarding upcoming events helps in developing brand awareness and recognition amongst masses. It helps in creating constant awareness about the products and services, also once a customer start recognizing a brand he/she is most likely to make most of their purchases through the same. The customer always tends to use the familiar app or any other new competitive app.
Customer Loyalty: Having a fully integrated mobile application helps in building a loyal customer base. One disadvantage of e-commerce is that it takes time to build trust, especially when monetary transactions are involved. However, with constant customer support and regular updating via mobile applications, it becomes easier to expect loyalty from customers. Brand awareness and easy to use mobile applications often encourage people to make purchases and use the same app time and again. This process may take time but once you have developed that trust amongst people, they are likely to choose your application over your competitors
Website and app go hand in hand: The companies having both website and mobile apps are more likely to have better sales. While the website helps in creating brand awareness, mobile applications help in boosting sales by all means. Apps is a quicker and easier way to navigate about the products and services of any company
A great way of engaging customers: Communicating with customers is important to boost the sales, but engaging them is more important to convert a one-time customer into a loyal one. Customers expect instant solutions to their problems, and there is no other medium, then mobile apps that have a minimal lag time in addressing customer queries. When customer queries are heard out on time, it helps in developing the trust and a long-lasting relationship.
Brand Visibility: Over the decade, there has been a tremendous shift in the way people look for the products. Gone are the days when people used to go by word of mouth but, now people believe in surfing the virtual stores and decide by themselves. Thus, enhancing brand visibility is the only option to stay in the competition. And when it comes to reaching people with the brand at once, no other way is better than creating a mobile app. People spend most of their time on mobile phones, be it while travelling or waiting in the queue, thus, not developing an app for your brand is the opportunity missed to create your place in the market.
To stand out in the crowd: E-commerce is all about standing out in the crowd, to win the competition, it is imperative to come up with something that can leave a lasting impact on the customers. Though apps are gaining a lot of popularity, still there is a large segment which is still not using this medium. Thus, it is the right time to grab the opportunity and make the most out of this platform. By the time, your competitors will enter this area, hopefully, with your content and dedication, you would have managed to build a strong and loyal customer base.
Profit maximization: At the end, everything comes down to the business and profits. People from all the corners of the world are keen to shift their base to the virtual world as it is the only way to boost sales and maximize profits. Best of the companies have admitted that almost 50% of their revenue comes from purchases done using mobile applications.
You must have understood the importance of mobile applications by now. Not only, it is beneficial for your business but has also become the need of an hour to survive in this cut-throat competition. It has become the trend and if you are not following the same, then trust us, you are missing out on a lot